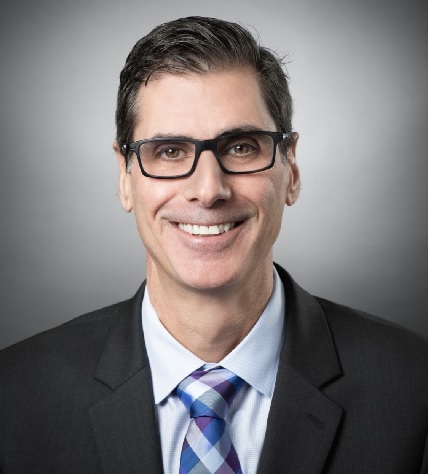 Michael S. Nuzzo, M.D.
Board Certified Orthopedic Surgeon & Fellowship Trained in Sports Medicine
Dr. Nuzzo is Board-Certified in orthopedic surgery and fellowship trained in sports medicine. He is one of a few select doctors in the region who received additional fellowship training in sports medicine. His practice encompasses athletes at all levels of accomplishment and all stages of life. He specializes in minimally invasive arthroscopic procedures to treat injuries of the hip, shoulder, knee, and ankle. He takes a team approach, working with physical therapists, coaches, and trainers to get patients back to the activities they love.
"I strive to help athletes, of all ages, overcome their injuries and return to the sports and activities they love.......stronger than ever!" -Michael S. Nuzzo MD
Hip Procedure
Dr. Nuzzo specializes in Hip Arthroscopy and performs hip preservation surgeries to treat hip related disorders. He treats hip pain caused by femoral acetabular impingement or FAI, hip labrum tears, damaged cartilage, tendon tears, and chronic bursitis. He also performs hip labrum reconstruction for non-repairable labrum tears. For advanced arthritis of the hip, Dr. Nuzzo performs Mako robotic arm assisted Total Hip Replacements using a minimally invasive Direct Anterior Approach.
Shoulder Procedure
In the shoulder, Dr. Nuzzo treats rotator cuff tears, labrum tears, shoulder instability, fractures, and also performs shoulder replacements, including reverse shoulder replacement. He also performs superior capsular reconstructions of the shoulder (ASCR), a newly developed procedure for chronic rotator cuff tears.
Knee Procedure
In the knee, Dr. Nuzzo treats ACL, PCL and other ligament injuries, meniscus tears, knee fractures, and performs cartilage restoration procedures to include cartilage cell implantations, and osteochondral allograft implantations for damaged cartilage.
Foot & ankle Procedure
In the foot and ankle, Dr. Nuzzo performs ankle arthroscopy to treat damaged cartilage, ligament reconstructions for instability, and fractures of the foot and ankle.
Team Physician
Sports team coverage has been an important part of his career. He has served as the head team physician at Fresno Pacific University and is an assistant team physician at Fresno State University.
Fellowship-Trained
Dr. Nuzzo received his master's degree from Georgetown University and a medical degree from Rutgers University Medical School. He completed his residency training in Orthopedic Surgery at Texas Tech University and William Beaumont Army Medical Center and completed a Fellowship in Sports Medicine, and Shoulder Surgery at Huntington Hospital in Pasadena, California.
Military Experience and Leadership
A veteran of the U.S. Army, Dr. Nuzzo was appointed Chief of an Orthopedic Surgery department. While deployed in Iraq in support of Operation Enduring Freedom, he served as the Orthopedic Trauma Consultant for Iraq Joint Operations and was awarded the Meritorious Service Medal.
Dr. Nuzzo has served as the Chief of Staff at Fresno Surgical Hospital. He gives frequent lectures on the local and national level on Sports Medicine topics and has published multiple articles in Sports Medicine Journals.
Fellowship
Sports Medicine, Shoulder, and Elbow Surgery, Congress Medical Associates and Huntington Memorial Hospital, Pasadena, CA
Residency
Orthopedic Surgery, Texas Tech University/William Beaumont Army Medical Center, El Paso, TX
Education
Rutgers School of Medicine, New Brunswick, NJ
Georgetown University, Washington D.C.
Certification
American Board of Orthopaedic Surgery
American Board of Orthopaedic Surgery Subspecialty Certification in Sports Medicine
Assistant Professor at the University of California, San Francisco (UCSF Fresno)
Head Team Physician Fresno Pacific University
American Orthopaedic Society for Sports Medicine
American Academy of Orthopaedic Surgeons, Fellow
Arthroscopy Association of North America
Dr Nuzzo was wonderful, got me right in did a hip replacement and I have had no pain since. He listens and gives you straight scoop. We are very lucky to have him in our area. Thank you again Doc

JoAnn

I just wanted to take a moment to say thank you again for the wonderful care Dr. Nuzzo has given me. This weekend I did my first trail run in over two years and it felt amazing!!! Even on the uneven and technical terrain, my knee felt totally stable. Other than a little post run soreness, it felt great! Thank you!! I even went for a 30 mile bike ride after. I also want to let you know what a blessing it has been to have such a caring, thorough and gifted doctor. Not all physicians take the time or show the compassion that Dr. Nuzzo does and I wanted you to let him know it is so appreciated. Thanks for giving me back what I love to do. See you at the next triathlon!

- Kelly

"Everything has been great. Short waiting period and great attention from everyone."

- Terry

"Dr. Nuzzo repaired my superior labrum tendon. I have been treated like I am important to the team and I am healing quickly. Thanks, Dr. Nuzzo!"

- Richard

"Doctor covered the test results with me in terms I could understand. I was advised what treatment options were available and doctors recommendations as to which one we should go with first. I feel that my doctor is concerned about my shoulder and getting me back to good function. It is worth the trip to Fresno from Merced to get this quality healthcare."

- James

"I came in with injury from working out at gym. I liked the relaxed atmosphere, especially from the doctor. Since my surgery, I have returned to all my activities (though some not as strenuous as before). I did my first 5k since surgery—felt great!"

- Janice

"Dr. Nuzzo did a wonderful job repairing my injured shoulder. He explained the process of surgery, after care and therapy, and it all worked out just as he planned. I am finishing physical therapy now, and have almost fully recovered. Soon I will have full strength in my shoulder and arm, and I have already returned to living a normal life. My shoulder Dr. Nuzzo repaired is, I think, better than it was before the injury. Thank you, Dr. Nuzzo. "

- William

"Doctor Nuzzo repaired my shoulder, at another facility. So when it was time to have my knee surgery, there was no question in my mind that he was the one to do that surgery. Doctor Nuzzo, explains what is needed and how it will be done. He has a wonderful manner and makes you feel confident that you are in extremely capable hands. After surgery he shows you pictures of the procedure and talks to you about what transpired. I am going through therapy now, and doing very well. He is kind and makes you feel that you are his number one concern. I can't say enough good, about Dr. Nuzzo, as a surgeon. "

- Linda

"Dr. Nuzzo is kind and has a great bedside manner. He made me feel very comfortable about my surgery at the office and at the hospital. If I ever need shoulder surgery again, he is the surgeon for me!"

- Lori

"I came to Dr. Nuzzo after having a botched procedure up in Sacramento. I had a horrible recovery where the pain never ended and my knee was still unstable. No doctor in Northern California would see me until it had been over a year since my horrible surgery. Dr. Nuzzo saw me and reassured me that this can be corrected--one month later I was in surgery with him. My knee is almost back to pre-injury working condition! I spent 6 months in physical therapy but I had to make up for a previous surgery on top of a new one. Dr. Nuzzo gave me my life back."

- Alexandra

"I found Dr. Nuzzo to be very knowledgeable, attentive, and informative regarding my pre-op, surgery, and post op. All his staff are wonderful, caring, and polite. I never, for one moment, thought Dr. Nuzzo would give me anything but professional, experienced care."

- Lana

"Dr. Nuzzo is awesome! No way I would have a healthy shoulder and be able to play golf without the professional, expert care I received from Dr. Nuzzo."

- Richard W.

"Had a total rotator reverse-replacement surgery, Dr. Nuzzo and supporting staff conducted themselves admirably and with total professionalism that reflects the high quality and standards expected in our health care system.

- Raul

"I was in a serious motorcycle crash in 2015 where I sustained complete tears to both major tendons in my left shoulder as well as a dislocated bicep tendon in the same shoulder. Initially I was turned down for surgery by a different physician however my file eventually made it to Dr. Nuzzo's desk and after reviewing it he decided to take my case and operate on my shoulder. Throughout the process Dr. Nuzzo was very kind and professional. He explained exactly what the damage was, it's severity, the challenges he will face while working to correct it, and I will face in the rehabilitation process. He also explained some of his background and reassured he that he has seen similar traumas and that I was in good hands. Needless to say, I was very confident in his abilities. I had my surgery in April and fortunately Dr. Nuzzo was able to repair both major tears as well as the dislocated tendon. I have just completed physical therapy and I have regained most of the function in my left arm. There is still work to do, and I will continue to rehabilitate my arm on my own, but I do believe I will regain all of the function I lost after the accident. I am grateful to Dr. Nuzzo for taking my case and to his staff for their professionalism and the quality of treatment they provided. I know my case was not an easy one. I would certainly recommend Dr Nuzzo for anyone that is in need of orthopedic care."

- Steven

"I had a good experience. Shoulder surgery went great and really came out stronger now."

- Chris

"Dr. Nuzzo was very professional, found what was wrong with my shoulder and did a great surgery. My shoulder feels better than it has in a long time."

- Terry

"Great experience. Repeat patient who chose to have a second surgery with Dr. Nuzzo because he is a great doctor. Office staff was very helpful with disability paper work as well."

- Jason

"Great. Very professional. Have recommended your group, specifically Dr. Nuzzo to others."

- Mike

"I really liked that they got right to the issue. Before my son ever saw the doctor, they wanted x-rays. The x-rays came right back and we were in the room to see the doctor all in the same morning. It wasn't that long of a wait, and everyone in the office was great."

- Danyelle

"The staff as well as Dr.Nuzzo made my experience comfortable and easy to understand. I felt like I was in the best service there could be."

- Joanna

"Dr. Nuzzo did a good job of explaining what to expect with the surgery and the recovery. On my follow up visit he explained what he saw and did during the surgery and what to expect in the future. He is a very nice man who is easy to speak with. He listens patiently to questions and answers them thoroughly. I would definitely recommend him to others."

- Jocelyn S.

"The entire process was amazing. I had both my left and right hip arthroscopic-ally repaired over the course of three months. I had been suffering with severe hip pain for over 5 years. Dr. Nuzzo confirmed the hips could be repaired. The procedure was flawless, the recovery was just as Dr. Nuzzo indicated and I am now pain free and have full hip mobility."

- Michael D.

"Dr. Nuzzo is always great with our teenage son. He takes the time to explain to him what he's experiencing. I love that he will tell him and not me what is going on but at the same time makes sure I don't have any questions or other concerns."

- Mary J.

"After much research and inquiry with friends and family I learned about Sierra Pacific Orthopedics. I was most pleased with my experience and efficiency with which they conduct business. My provider, Dr. Nuzzo, was thorough, explanatory and to the point. At the beginning of identifying the problem with my shoulder I thought this would be a long, drawn out problem but things kept rolling and before the new year I was in for surgery and on my way to mending.

- Antoinette G.

"Excellent surgery and care was excellent."

- Kathleen B.

"Doc Nuzzo is so great!!!! Was able to get rid of my pain and it hasn't come back!! Who knew!! THANKFUL!"

- Heidi L.

"Dr. Was very nice and understandable, he explain all my problems well."

- Marianna L.

"Dr, is very professional, he is also very kind ,and caring. He takes the time to listen, to all of your concerns. I have recommended Dr many times over."

- Mary C.

"Dr. Nuzzo took time to explain his findings, recommendation and desired outcome fully. He was professional, accommodating, and reassuring. I look forward to continued care with this office."

- Marie B.

"It was nice quick and professional!"

- Teri S.

"I came to Dr. Nuzzo with a knee issue. Dr. Nuzzo was able to detect the issue within minutes after viewing the MRI. Dr. Nuzzo performed a bone graft to my knee and from that time forward my whole experience has been on the plus side. The graft was successful and I've been able to resume the activities of daily living. The office staff was very responsive to calls and messages. Dr. Nuzzo has virtually given me my life back. I'm so grateful for him. Thank you Dr. Nuzzo."

- Charlotte C.

"Dr. Nuzzo explained his findings and explained in detail every aspect of the surgical procedure. He also explained the rest period and the importance of therapy treatment. The office staff was very pro active when I informed them of the onset of an infection in one the sutures. Immediate follow up with one of the Drs. on staff at that time with prescription ordered promptly. In conclusion job well done."

- Anthony C.

"He is an excellent doctor and answers all your questions."

- Hameeta M.

"Very well taking care of from start to finish Dr. Nuzzo had an answer for all my questions, if need be, I will use them again this was my second time here both experiences were excellent. Thanks."

- Gary S.

"I am pleased with the service I received. Dr. Nuzzo is very professional. I never had doubts about his knowledge of the operation. It's amazing what can be accomplished with arthroscopic surgery. I feel no more constant pain in my hip. Thank you Dr. Nuzzo!"

- Angela S.

"Excellent care from doctor and staff. Rotator cuff has healed 100%. Very happy with results and treatment by Doctor, Staff, Hospital Staff as well. Best care I have had. Would recommend Sierra Pacific to all."

- Kathleen B.

"Dr. Nuzzo did a great job. He is very good at what he does."

- Thomas C.

"Not only the excellent place to get fixed but the medical care that it was done was excellent and the staff was professional."

- Thomas S.

"Had a torn meniscus repaired. Surgery was scheduled in a timely manner. Dr. Nuzzo was thorough and professional. Office staff were great!"

- Emilee J.

"Very knowledgeable and experienced. Thoroughly explains the process of surgery."

- Dolores M.

"Doctor Nuzzo is friendly, open for discussion and informative. I was pleased with the surgery on my shoulder and looking forward to regaining mobility. I would recommend him as a component surgeon."

- Thomas C.

"Excellent experience everyone was great!"

- Tammy C.

"Appointments easy - on time, efficient. Staff managed Pre op matters efficiently/timely Post Op - appointments on time, easy. provider and support staff pleasant."

- Susan H.

"Dr. Nuzzo was so easy to work with to get to a healthier version of myself. I had no idea that MPFL surgery was even an option and it has given me so much hope for a better life. Not only did he operate on the knee that was dislocated, but has promised to help me with my other knee as well. I can not put into words how exciting it is to be living with legs that won't have dislocating knee caps anymore! It's a whole new lease on life and I appreciate it more than can be put into words."

- Rosie M.

"All aspects of my experience was very good. Thanks for all the help."

- Les L.
New Advances in Hip Arthroscopy
Shoulder Rotator Cuff Tear Repair Options
Introduction: Michael S. Nuzzo, M.D.
Hip Arthroscopy: Michael S. Nuzzo, M.D.
For more information please visit www.adventisthealth.org